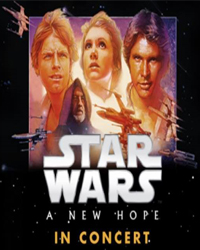 Star Wars: A New Hope™ in Concert
When
Occurs on Saturday October 7 2023
Approximate running time: 2 hours
Venue
Concert Notes
×
Star Wars: A New Hope™ in Concert
Saturday, October 7, 2023- 7:30pm
Luke Skywalker begins a journey that will change the galaxy, as he leaves his home planet, battles the evil Empire and learns the ways of the Force. Experience the magic of this intergalactic epic like never before as the El Paso Symphony performs John Williams' beloved score LIVE to the film on the big screen. Don't miss Star Wars: A New Hope in Concert.
Tickets Prices $95, $80, $65 and$50 plus $3.50 facility fee
Children of all ages are welcome into this performance. Ages 2 and under are free.
For wheelchair seating, please contact the EPSO Office (915) 532-3776.
Plaza Theatre located at 125 Pioneer Plaza
Please ensure that you are purchasing tickets for correct performance and date. There are NO REFUNDS OR EXCHANGES.
Although masks are not currently mandatory, they are highly recommended.
Additional tickets available for purchase at: https://www.elpasolive.com/events/star-wars-a-new-hope