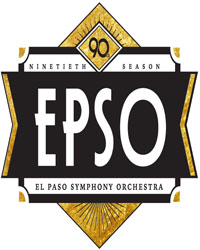 February Concert
When
Runs from Friday February 18 2022 to Saturday February 19 2022
Approximate running time: 2 hours
Venue
Concert Notes
×
February 18 & 19, 2022, 7:30pm Plaza Theatre
Bohuslav Rattay, Conductor UTEP Choral Union Ingela Onstad, Soprano Cherry Duke, Mezzo-Soprano Brian Downen, Tenor Phillip D. Hill, Baritone
Beethoven - Symphony No. 9 "Ode to Joy"
Children 5 & over are welcome into this performance.
For wheelchair seating or students discounts please contact the EPSO Office (915) 532-3776.
Join "Opening Notes" with Dr. James Welsch, EPSO Assistant Conductor, 6:30pm Philanthropy Theatre prior to each classical concert for insights on the evening's program.