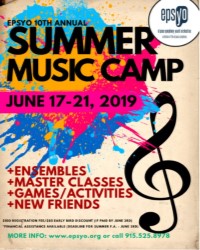 Epsyo Summer Camp Concert
When
Occurs on Tuesday June 25 2019
Approximate running time: 1 hour
Venue
Concert Notes
×
EPSYO 10th Annual Summer Camp Concert Dr. James O. Welsch, Conductor Alejandro Gonzalez, Conductor
The EPSYO presents its 2019 10th Annual Summer Camp concert, showcasing the students tremendous talents and dedication.
Friday, June 21, 2019 - 7:00PM Magoffin Auditorium on the UTEP Campus
General Admission $5 ticket price for everyone Purchase of ticket entitles purchaser to 1 raffle ticket. Drawing to be held night of concert.
No age limit for this concert Children over the age of 3 need to purchase a ticket
Youth Symphony I.D.s are NOT accepted for this performance